Collaborating with a Legend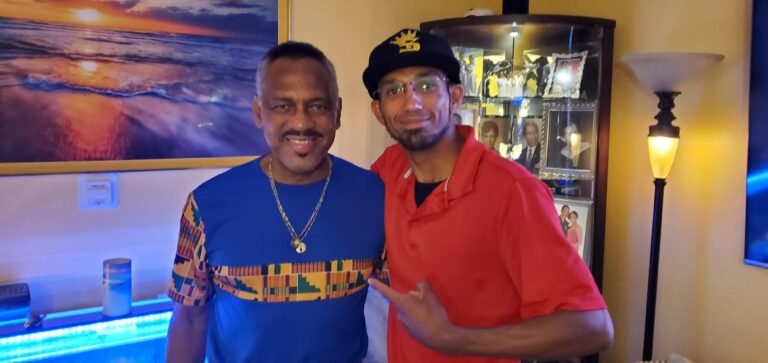 Hip Hop/Pop artist King Stewart meeting with the Legendary Musician/Percussionist for KC & The Sunshine Band – Oliver C. Brown in Hollywood, CA. 
"The meeting was a very educational, spiritual, inspiring and productive meeting, hearing stories from Oliver about his days of working with Legends such as Fleetwood Mac, KC & The Sunshine Band, Jermaine Jackson and many others, Oliver also shared with me music from an Artist he's currently working with and promoting which we talked about ways of working together not only to promote his artist but potentially collaborating" 
"Oliver also talked to me a lot about God, walking with God and keeping your faith in him, he said as an artist blessed with talent you must put God in everything you do because to make music that is negative would be an insult to God because God gave you your talent"
"Because of the type of songs I'm doing, recently released and upcoming having such a real and positive message, Oliver and I talked about a collaboration with his Rock artist and myself, blending Rock with Hip Hop with a beautiful & positive message."
– King Stewart
Fellow Artist in Venice Beach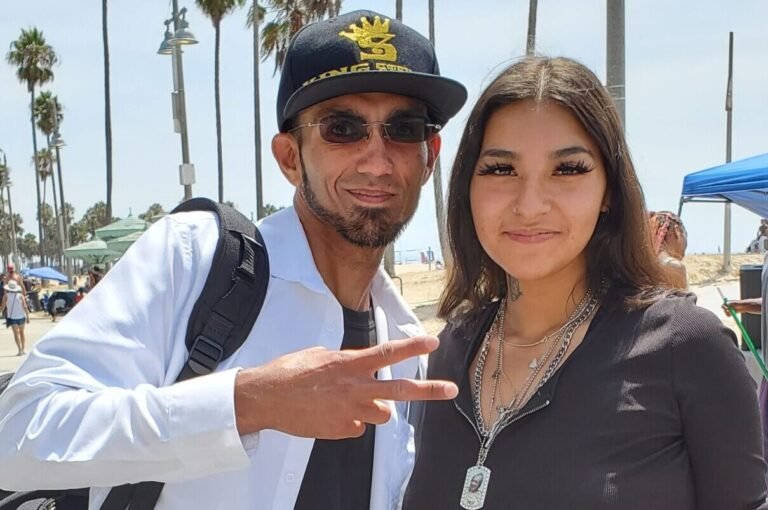 Hip Hop/Pop artist King Stewart met Female Hip Hop Artist – Ms. RestrictedKj in Venice Beach.
As an Artist King Stewart always tries to take a moment to show his love and support to other artists and their music regardless of the genre, while at Venice Beach he happened to see another Female Artist performing and was completely impressed and inspired by her effort, lyrics, drive and humbleness.
"I had just left the beach from doing a photo shoot with a photographer and as we were walking down the walk way I happened to notice a Female Artist performing to the public with a canopy behind her, I thought this is really cool, this is underground independent Hip Hop, so I stopped for a few minutes to hear what she was saying, took my phone out to get a video of her for Instagram to help promote her because I always want to show love & support for other artists on the same grind as myself and their was another lady there who was a supporter of her music as well and noticed that I was also an artist so the lady asked to get a picture of Ms. RestrictedKj and myself together, I told Ms. RestrictedKj I had a lot of respect for what she's doing and she definitely has my support, so we followed each other on Instagram."
"One thing I'll add is I definitely want to collaborate with artists like her, I actually have a song or two which I would love to feature her on. It is great to see  Female MCs & I would like to see more Female MCs with real talent like her."
-King Stewart
King Stewart releases 2 new HOT singles, now available on numerous streaming platforms & available for download.
Are You the One & Treat Me Right are 2 of King Stewart's latest singles recently released, these songs focusing on love & relationships have a very danceable, upbeat vibe that literally makes you want to get up and dance along with a message that everyone who is in a relationship & dating can relate to. If you're looking for a new song or two to add to your playlist, something you can really dance to and connect with, these two are EXACTLY what you're looking for.
"Are You the One is a song about a guy dating a girl and being in love, seeing and hearing all the things he's ever wanted to see and hear in a woman who he would want to be his Wife, in this song he's saying he already knows she's the "One" based on her words, actions, friendship, fun times and their efforts together, so he's asking himself, asking her and asking God if it's finally the "One" and time to get married."
"Treat Me Right is a song about a couple dating & the girlfriend is telling her boyfriend that they don't yet know which direction they are going or how serious they want to get and the boyfriend's response is telling her he is certain he wants her and he's willing to prove it to her through actions and words, even through the toughest of times he is willing to work through everything with her but he also wants to see and know that she wants it as much as he does and won't give up through the worst times either."
-King Stewart
Reality Show song placement
King Stewart in talks with Reality Show T.V. Series Executive Producer out of Las Vegas about potential song placement in Reality Show.
A Las Vegas based Executive Producer is working on producing a new Drama driven Female Modeling Reality Series for T.V. in which the Executive Producer has shown great interest in featuring one of King Stewart's new songs.
"I've been in talks with this particular Executive Producer for some time now, he's heard some of my unreleased songs which he really liked and one of them he liked the beat and message so much he presented the idea of featuring that song in his T.V. Reality Series which is a Drama driven Female Modeling Reality Show, I'm not allowed to say much more about the show or when or where it will be produced or some of the known models who will be in it but I can say it will be one hell of a great show I can assure you of that, this show has been in development as far as being written, casting the right models, planning the perfect location etc… for some time now and it's really cool to see it being put into motion."
-King Stewart